Winnipeg Warehousing and Distribution Services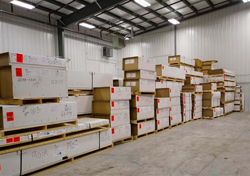 Rolly's offers the best warehousing services in Winnipeg, with an attention to detail and a dedication to customer satisfaction.
Warehousing and distribution
Cross docking
Worldwide logistical solutions
Racked and bulk storage
GPS tracking and barcode system
Inventory control software
Climate controlled
Multimodal consolidation/deconsolidation
Logistics is all about managing the flow of goods and services from one point to another. Logistics also involves the integration of several different services needed to accomplish that flow. Information tracking, warehousing, receiving and shipping are all a part of the natural flow of goods in today's business world. When one company can integrate all those items together into a smooth flowing package, you have a true logistical solution.
Worldwide Logistical Solutions
Rolly's can provide your business with this kind of worldwide logistical solution. We'll do the receiving for your shipments, carefully documenting everything that comes in. We'll provide the Winnipeg warehousing space in our facilities, which are clean, secure and always accessible to you and your designated employees. When it's time to ship things out, we can prepare for shipping and then handle the delivery locally ourselves. Rolly's handles everything from sensitive files to pianos, and their clean, temperature-controlled and insured Winnipeg warehouses take the worry out of shipping your goods.
State of the Art Inventory Control Software
Our warehousing solution includes tracking your inventory with state of the art inventory control software. You will always know what you have in stock through our professional barcode system. We will be able to quickly locate any item we have inventoried for you. All your items will also be tracked through our GPS tracking system. We'll always be able to tell where your items are. Our tracking system is not limited to within the warehouse. Rolly's also provides GPS tracking of deliveries. If your item is in transit to its destination, we can still tell you where it is by simply checking our GPS tracking system.
Cost Savings
Why spend your capital to invest in warehouse space, staff and technology, when Rolly's already has it available and ready to service your needs?