Cross Docking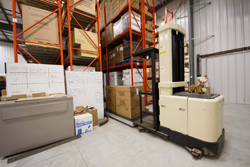 Our cross docking services include receiving, sorting and shipping of your products.
Why use Winnipeg warehousing? The answers are many, but the primary reason is location. Winnipeg has a perfect central location on the continent, sitting mid-way between two great oceans, and it has good roadways that extend to all points in Canada and the United States.
Rolly's warehousing is located with easy in/out access, and they are designed to benefit you in many ways. No matter where on Earth your products arrive from, Winnipeg third party warehousing with Rolly's warehousing allows your company to reap all of the benefits of cross docking. Whatever has to be distributed immediately simply gets offloaded from one truck and placed on the next transport, without spending any costly time sitting in a warehouse. GPS tracking ensures that your load will arrive undamaged and on time.
If your product needs to be stored for later delivery, then using Rolly's warehousing can save you even more money, in that you won't have to use up precious time and money resources to build your own.